This Networking Thing Really Works!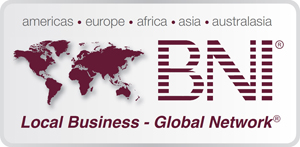 Visitors Day is January 30, 2014 at 7:30am.

Now you have it! A directory of honest, reliable, affordable business services that serve the Dayton/Miami Valley Area and beyond. See our Speaker Schedule and Upcoming Networking Events.
Simply look at our members list and choose a business that fits your needs.
One Stop Shop! If your business is moving, growing or just starting ~ then we have trustworthy businesses to meet your every need to keep you competitive.
Do YOU have all the business you need? If not, would YOU like more business? Then visit our BNI North Dayton Chapter meeting.
We Need: Payroll Company, Financial Planner, Interior Decorator, Sign Company, Commercial Builder, Chiropractor, Appraiser, Electrician, Painter, Photographer, Mover, Local Newspaper, Auto Dealership, Architect, Travel Agent, Office Machines and Furniture, and others.
Benefits of BNI
COMPARE THE VALUE
Most business people advertise and we would never suggest that you stop advertising. However, Compare the Value between advertising and word-of-mouth marketing. Being a member of BNl is like having up to 40 salespeople marketing your product or service everyday.
GOOD REFERRALS
Good Referrals offer the opportunity to do business with someone who is in the market to buy your product or service. Although not a guaranteed sale, a good referral is an open door to discuss your business with someone who is interested in your product or service. Each member knows several people. This extended network is a rich data base of potential business available to members of BNI.
WORD OF MOUTH
Word of Mouth is the most cost-effective form of advertising possible. BNI provides a structured environment for the development and exchange of quality business referrals for both men and women. By comparison, getting referrals through a one day 4x4 display ad costs an average of $1,568.00, based on another a survey published in The World's Best Known Marketing Secret. Based on a survey conducted by Dr. Ivan R. Misner, each member of BNI passes an average of over $15,660 worth of potential business to other members in one years' time.
JOIN NOW TO LOCK OUT YOUR COMPETITORS!